You may remember that fall is the time to check your windshield wipers and make sure they are ready for the coming snow, but have you thought to check your trunk? You never know what will happen in a winter storm, and a well-prepared vehicle can make all the difference. This is especially true if you are on the road a lot, or drive for a living.
Windshield Wipers & Vehicle First Aid Kits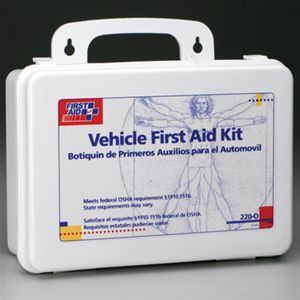 When you stop to replace your old windshield wipers this fall with Everblades Heated Windshield Wipers, take a little time to put together an emergency kit for your vehicle. If you already have one, you should make sure that it is properly stocked and includes anything you might need if stranded in the snow. Make it a habit to check your emergency stash each time you inspect your windshield wipers so that you don't forget.
An important inclusion is a first-aid kit. You don't need to drive around with full emergency room equipment in the trunk of your car, but you should have the basics. Make sure your first-aid kit includes bandages, compress dressing, bandage tape, gauze pads, antibiotic ointment, antiseptic wipes, scissors and aspirin. If you regularly take a prescribed medication, it's a good idea to either keep extra in your vehicle's first-aid kit, or add a list of the medications, as well as emergency contact numbers.
Your Windshield Wipers Are Ready for a Storm – Are You?
Even if your vehicle is in great condition and your windshield wipers are keeping your vision clear, winter driving can throw a curve ball at anyone. Don't be caught unaware and unready when finding yourself stuck in a snow bank or on the side of the road! In addition to your first-aid kit, you should include the following items in your emergency kit:
Warning light, flare, or hazard triangles
Flashlight, with spare batteries, preferably one with a stand or magnet in case you need to work on your vehicle
Basic tool kit
Tire gauge – you should use this tool at least once a month in the winter, and after each significant change in temperature. Try checking tire pressure after cleaning your windshield wipers and windshield at each fuel stop.
Tire jack
Spare tire – make sure this is properly aired up
Lug wrench
Jumper cables, or preferably a portable battery booster that won't have you waiting for another car to come by
Clean rags and paper towel
Windshield scraper – this should be used before straining your windshield wipers on a frozen windshield
Gloves – keep your fingers warm or protect them when changing a tire
Water, emergency food kit
Tow strap
Water proof matches
Compass
Antifreeze
Winter windshield washer fluid
Spare windshield wipers, in case of a failing wiper blade
Keeping these items in waterproof bags, or even a waterproof tub, will protect them from the elements and help ensure each will work when you need it. Make sure to replace items that you use shortly – you wouldn't drive your car without windshield wipers and you don't want to risk not having batteries for your flashlight when stranded!
Upgrade to Everblades Windshield Wipers Today!
If you haven't ordered your Everblades yet, get 'em today! Don't waste time on the side of the road trying to bang ice and snow off your wiper blades this winter – leave the hard work to the heating elements of quality windshield wipers! With durable silicone rubber blades built to last, Everblades will help you see clearly this winter. You may never need your vehicle's emergency kit, but you know you will need good windshield wipers!